Please note: Events subject to change due to Covid. Where possible, we have left events on the calendar but added if they are online/virtual or "Cancelled."
Welcome to the Family!
NIFamily.com is the companion website to the North Idaho Family Magazine.
The Magazine, the North Idaho Charitable Events (N.I.C.E.) Calendar, and the comprehensive Services Directory are three tools used by the North Idaho Family Group, Inc. (an Idaho nonprofit, 501(c)(3) corporation) to promote a mission of "healthy families and lifelong learning" in the communities of North Idaho. Visit NIFG.org for more information.
The N.I.C.E. Calendar
For easy event-planning, the calendar below displays BENEFITS & FUNDRAISING EVENTS only.
View the full calendar with other family-friendly events.
Aug
10
Wed
Night Under the Stars for Safestart & NISSA

@ Elk Point
Aug 10 @ 4:00 pm – 9:00 pm
Sep
10
Sat
2022 Break the Silence Suicide Awareness and Prevention 5K Walk

@ Riverstone Park
Sep 10 @ 8:30 am
PAN of North Idaho is happy to bring you the 2022 Break the Silence 5k Walk for Suicide Awareness & Prevention on Saturday, September 10, 2022. We invite you to walk to show your support of those who struggle with mental health wellness, to remember those who lost their battle, and to raise awareness of the reality of suicide in our communities.
The Walk will launch at Riverstone Park in Coeur d'Alene. On-site registration and check in begins at 8:30 AM.
Before the release, gather your honor beads, purchase a t-shirt or a sticker to help support the cause, but be ready to hit the trail at 10AM. Trail is kid friendly, stroller friendly, and wheelchair friendly.
Many local mental health resource providers will be on hand before and after the walk, with a welcoming heart, great information and cool swag.
Free water, coffee and snacks available before and after the walk. Music by Alejandro.
All proceeds and donations stay within Health District 1 to continue suicide prevention outreach, host suicide loss survivor support groups, provide educational training to bring experts in suicidology to speak to clinicians and the community.
Questions? Jill 208-415-5103
Cancer Can't Black & White Gala

@ Settler's Creek
Sep 10 @ 4:30 pm
Cancer Can't is coming back in style with a virtual and live fundraising event at the 2022 Black and White Gala.
Wear Black and White attire. (It does not have to be black tie formal!)
We will have wood fire cooking for a high end food experience. There will be live music you are not going to want to miss. Beautiful outdoor venue at Settlers Creek!
Stick around after dinner for more drinks and music from the live band with artists who have performed in Nashville. This is going to be a fun night!
Sep
17
Sat
A Night in Black & White Annual Auction for Boys & Girls Club

@ Coeur d'Alene Resort
Sep 17 @ 6:00 pm – 7:00 pm
Our 15th Annual "Night in Black & White" Auction & Dinner will be held on Saturday, September 11th at the Coeur d'Alene Resort. This exciting event will gather civic and business leaders and hundreds of community members for an evening of silent and live auctions and a chance to mix and mingle with Club supporters over delectable hors d'oeuvres, drinks, and a delicious dinner. This event is our biggest fundraiser of the year. The money raised stays 100% local and helps to ensure we can continue to enhance and expand our programs to the youth of our community.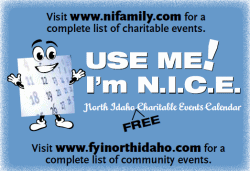 The North Idaho Charitable Events (NICE) Calendar is a comprehensive listing featuring events and fundraising activities from area nonprofit agencies. Created in 2008, it's your go-to source for promoting and planning fundraisers and all other events.
POST your events here as soon as your dates are confirmed.
USE it to plan your event, avoid duplication and get better attendance.