Thank you and Save the Date! – June 8, 2018
Information for the 2018 event will be coming soon. If you participated in last year's event, you'll receive information automatically. If you are a NEW participant, shoot us an email at familydaycda@nifamily.com to be added to the mailing list.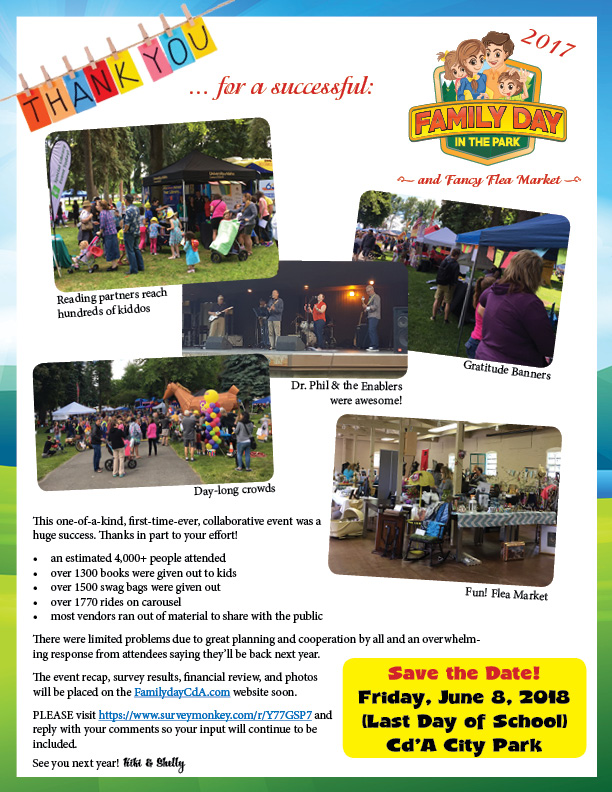 The North Idaho Family Group is an Idaho 501(c)3 non profit. It is a membership and program driven group whose mission is "Healthy Families and Life Long Learning." The NIFG is a backbone organization that will produce the annual Family Day in the Parks event in the spirit of the former collaborative, nonprofit-based Kids Day in the Park, with a greatly expanded venue, schedule of events, audience and opportunities.
Slated to be the last day of school each June, the event will have a steering committee comprised of the lead partners and activity coordinators. It is the goal of the event to provide outreach, revenue generation, public awareness and celebration of all that they do, to each of the participating partners.
Non profit outreach/activity booths
Flea Market vendors
Food Court
Main stage entertainment
Carousel open house and activities, discount rides, photos
Bike tune-ups from Lake City Bicycle Collective
Heritage & Cultural Center Activities
Community and civic organization displays
Kids Carnival
Paddlefest / Paddle craft / Sail rides & exhibitions
Coeur d'Alene Police Dept outdoor movie night
Check our Facebook Page often for updates!