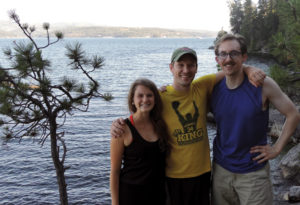 Idaho's oldest performing arts organization is marking their 50th anniversary this year, and just wrapping a successful summer season of main stage professional musical theatre productions. While Coeur d'Alene Summer Theatre has a specific season in the name … fall, winter and spring are also dedicated to the performing arts.
Three years ago CST on the Road was created as a curriculum-based "edutainment"-style touring theatre program. Coeur d'Alene Summer Theatre commissions and develops original musicals themed around local history and relevant issues to present in fully-staged, 100% portable productions. Requiring only a 15'x15' footprint, the program can be presented in spaces as large as gymnasiums or as small as classrooms.
CST on the Road reached over 12,000 students with the inaugural show Living Through the Fire, about the exploits of Edward Pulaski and the "Big Burn" of 1910. The range of the two-year tour extended as far south as Weippe, ID and as far north as Colville, WA.
For the 2017-18 school year the second commissioned musical, Across the Divide,features curriculum content about the Lewis and Clark expedition and themes of anti-bullying, teamwork and the value of family.
Across the Divide is written by Coeur d'Alene Summer Theatre's artistic director Jadd Davis and director of education Aimee Paxton, with original music composed by Henry McNulty, resident Music Director at Spokane Civic Theatre and a regular performer and musician/music director for CST.
"CST on the Road shows are not "kids theatre" so much as they are sophisticated musicals geared toward young audiences in K-8," said Davis. "We strive to challenge students."
All the artists involved with CST on the Road are paid professionals, ensuring high quality productions for students who may never have experienced professional theatre.
Students receive a study guide prior to the performance so they are prepared to respond to the thematic elements explored. Performances are about 45 minutes in length and a talkback with the cast follows each performance.