It is an amazing time in North Idaho in that one of the most important factors for future success in life is being addressed by multiple organizations: LITERACY.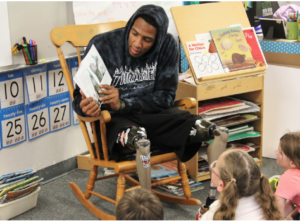 The Shirley Parker Reading Program was established in 2002 by the North Idaho College wrestling program in partnership with Parker Toyota in honor of Doug Parker's late wife, Shirley, who was a supporter of both wrestling and reading. Pictured is NIC wrestler Hasaan Hawthorne reading to a group of students at Fernan Elementary recently. The team has donated 18,000 books to local schools.
Each week during the season, NIC wrestlers and coaches visit a local elementary school to read to the first-graders. The children are encouraged to take their book home to continue practicing their reading skills in addition to receiving a bookmark and poster of the wrestling team.
Throughout the year, there are multiple ways for families to access books at no charge.
FIND BOOKS HERE:
United Way of North Idaho held their annual book drive in May … Distributiion at multiple locations and by request.
CDA Library and the Community Library Network have multiple programs plus access to books.

AREA LIBRARIES (BOOKS, of course, but also amazing programs):
www.cdalibrary.org/events
Downtown Coeur d'Alene: 208-769-2315
www.CommunityLibrary.Net – Community Library Network
Hayden, Post Falls, Rathdrum, Spirit Lake, Athol, Harrison, Pinehurst: 208-772-5612, ext.121
• www.lcplibrary.org – Lake City High School – NOTE: RELOCATED TO SKYWAY ELEMENTARY FOR SUMMER 2018 DURING LCHS CONSTRUCTION
OPENING BOOKS, OPENING DOORS – Children's Summer Reading Rocks!
Look for Opening Books, Opening Doors decorated rocks hidden around town. If you find one, return the rock to the Children's Library at the Coeur d'Alene Public Library or Hayden Lake Public Library to be entered to win exciting prizes all summer.
There will be a grand prize drawing at the end of summer. More info: openingbooksopeningdoors.com