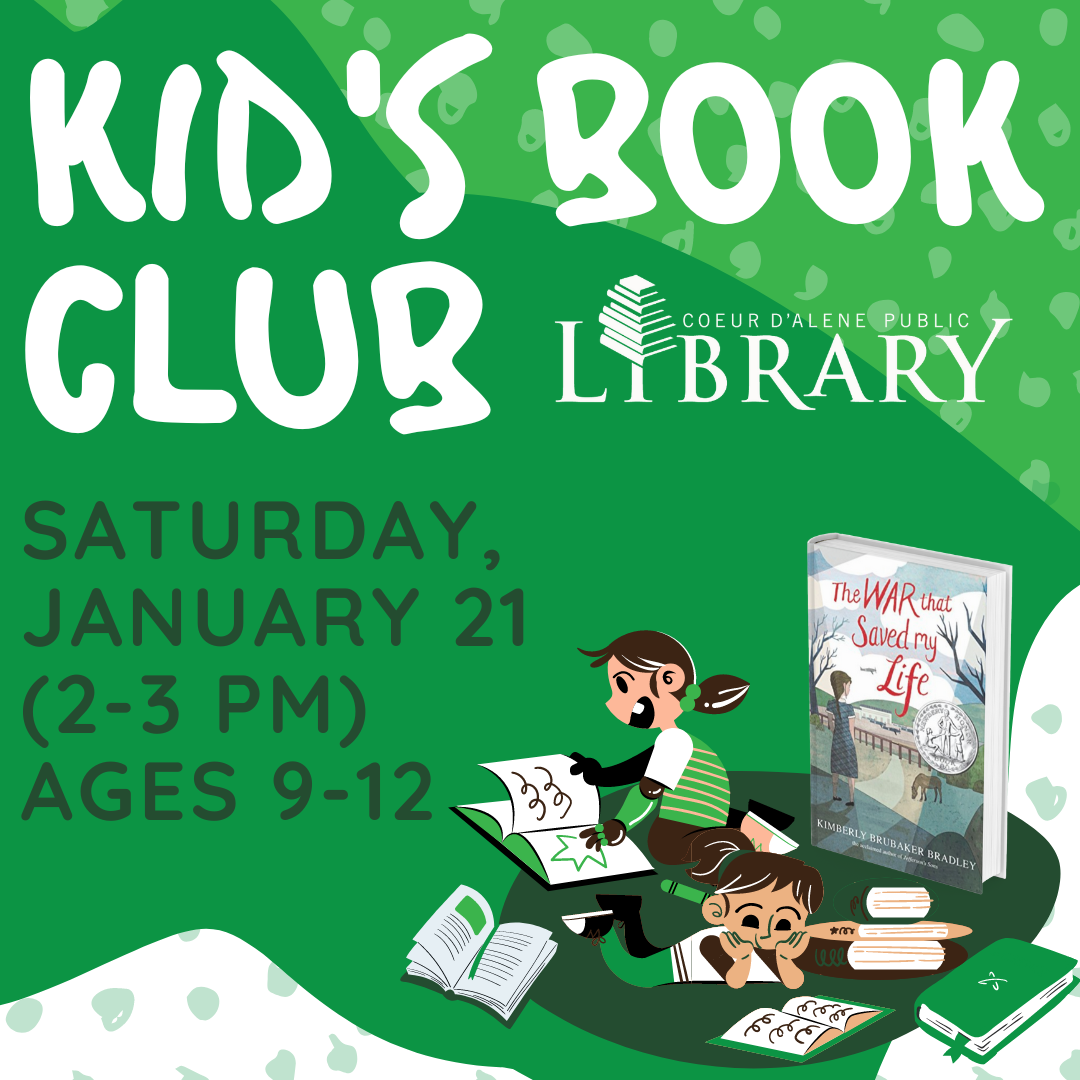 Date
Jan 21 2023
Expired!
Kid's Book Club – Ages 9-12
Read the book, keep the book! REGISTER HERE: https://cdalibrary.org/library-events/jan-club/
Kid's Book Club (9-12 yo)
Saturday, January 21 (2-3 pm) – Third Saturday of each month
Our book club pic this month is "The War that Saved my Life" by Kimberly Brubaker Bradley. On January 21st we'll meet by the fireplace in the Storyroom to discuss the book.
—-Book Description—-
An exceptionally moving story of triumph against all odds set during World War II, from the acclaimed author of Fighting Words, and for fans of Fish in a Tree and Number the Stars.
Ten-year-old Ada has never left her one-room apartment. Her mother is too humiliated by Ada's twisted foot to let her outside. So when her little brother Jamie is shipped out of London to escape the war, Ada doesn't waste a minute—she sneaks out to join him.
So begins a new adventure for Ada, and for Susan Smith, the woman who is forced to take the two kids in. As Ada teaches herself to ride a pony, learns to read, and watches for German spies, she begins to trust Susan—and Susan begins to love Ada and Jamie. But in the end, will their bond be enough to hold them together through wartime? Or will Ada and her brother fall back into the cruel hands of their mother?
This masterful work of historical fiction is equal parts adventure and a moving tale of family and identity—a classic in the making.
—-Book Review—-
If you'd like some extra information about the book, check out this review of "The War that Saved my Life" by Kimberly Brubaker Bradley on Commensensemedia.org here: commonsensemedia.org/book-reviews/the-war-that-saved-my-life
This calendar is provided as a courtesy and North Idaho Family Group shall not be liable for any incorrect information provided in submissions.