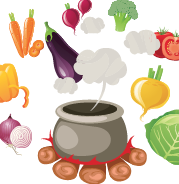 Once upon a time there was a great famine in which people jealously hoarded whatever food they could find, hiding it even from their friends and neighbors. One day a wandering traveler who hadn't eaten in days arrived in a village asking for a small meal.
"There's not a bite to eat in the whole province," he was told. "Better keep moving on."
"I have asked you for food and you have no food. Well, we will have to make stone soup!" he said. He asked for large iron pot, filled it with water, and built a fire under it. Then, with great ceremony, he pulled an ordinary smooth stone from his pocket and dropped it into the water.
By now, hearing the rumor of food, most of the villagers had come to the square or watched from their windows. As the traveler sniffed the "broth" and licked his lips in anticipation, hunger began to overcome their skepticism.
"Ahh," the traveler said to himself rather loudly, "I do like a tasty stone soup. Of course, stone soup with carrots — that's hard to beat."
Soon a villager approached, holding carrots he'd retrieved from his cellar, and added it to the pot. "Capital!" cried the traveler. "You know, I once had stone soup with carrots and a bit of beef as well, and it was fit for a king."
The village butcher managed to find some beef… and so it went, through salt, pepper, potatoes, onions, cabbage, mushrooms, and so on, until there was indeed a delicious meal for all. The villagers offered the traveler a great deal of money for the magic stone, but he refused to sell and traveled on the next day.
Chicken Enchilada Soup
1 lb diced chicken breast
2 tbsp vegetable oil
1 cup heavy cream
½ cup diced yellow onion
½ cup diced green pepper
½ cup diced red pepper
1 bunch cilantro chopped
2 tbsp minced garlic
8 oz canned diced green chiles
16 oz green enchilada sauce
2 cups shredded cheddar cheese
1½ qt chicken stock
8 oz cut tortilla
1½ tbsp chili powder
1½ tbsp cumin
1½ oz onion powder
1 tsp black pepper
In large sauce pan heat vegetable oil, add chicken meat and brown. When chicken is fully cooked add peppers and onion mix and cook until translucent. Add garlic, chicken stock, heavy cream, chiles, enchilada sauce, chili powder, cumin, onion powder and black pepper. Bring to a boil then reduce heat to a simmer, allow to simmer 20 minutes. Add cilantro, tortillas and cheese stirring constantly to prevent from sticking. Cook until tortillas are fully dissolved. (Slightly thicken with corn starch slurry if desired)
Rustic Italian Tortellini Soup
Chef Phil Biggerstaff, Hospice of North Idaho
3 Italian turkey sausage links (4 oz each), casings removed
1 medium onion, chopped
6 garlic cloves, minced
2 cans (14½ oz each) reduced-sodium chicken broth
1¾ cups water
1 can (14½ oz) diced tomatoes, undrained
1 package (9 oz) refrigerated cheese tortellini
1 package (6 oz) fresh baby spinach, coarsely chopped
2¼ tsp minced fresh basil or ¾ tsp dried basil
¼ tsp pepper
Dash crushed red pepper flakes
Shredded Parmesan cheese, optional
Crumble sausage into a Dutch oven; add onion. Cook and stir over medium heat until meat is no longer pink. Add garlic; cook 1 minute longer. Stir in the broth, water and tomatoes. Bring to a boil.
Add tortellini; return to a boil. Cook for 7-9 minutes or until tender, stirring occasionally. Reduce heat; add the spinach, basil, pepper and pepper flakes. Cook 2-3 minutes longer or until spinach is wilted. Serve with cheese if desired. Yield: 6 servings (2 quarts).
Pumpkin Chili
2 cups black beans, cooked
½ medium sized pumpkin, cubed
1 tbsp grape seed oil
¼ onion
1 shallot
1 clove garlic
1 pint canned salsa
¼ cup sun-dried tomatoes
1 tbsp pumpkin pie spice
2 tbsp cocoa powder
1 tsp chili powder
1 tbsp cumin
1 tsp salt
water to cover, to desired consistency,
roughly 2-4 cups
Soak, sprout and cook black beans ahead of time.
Caramelize onion, shallot, and garlic in grape seed oil.  Add remaining ingredients with enough water to cover all ingredients, to desired consistency. The longer you let it cook, the better!