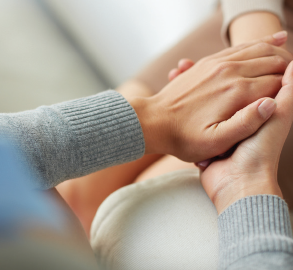 The loss of a loved one can be overwhelming and draining. Hospice of North Idaho supports community members with a safe place to express grief and to learn tools for the journey through grief. Free counseling and grief groups are offered to anyone experiencing the loss of a loved one. No matter the age, Hospice of North Idaho is here to help.
In consideration for those who have lost loved ones, the holiday season can be a particularly challenging. Expectations from ourselves, family, friends, and traditions can be exhausting. Hospice of North Idaho Bereavement Coordinator, Kaylee Kron offers helpful holiday preparation tips for adults:
Make a holiday plan. A plan can help you claim nurturing moments and prepare for specific activities. It can help you prepare to communicate your needs for self-care and balance expectations.
Give yourself permission to respectfully cancel plans or suggest scaled-back plans. Be kind and patient with yourself.
Create Plan B. Knowing that it is there if you need it, enact your self-care plan: have quiet meal with a friend, watch the movie you know will comfort you, take walk in the park…
Schedule time for your favorite cheerful or comforting activities.
Set up a sacred space for grieving. Visit it whenever you need to, and say thanks before leaving it.
Make an appointment to talk with a skilled support person or group.
Create a way to celebrate and honor your loved one. Maybe light a candle, make their favorite recipe, or write down their kindnesses.
Hospice of North Idaho encourages kindness and patience with yourself as you walk through grief. Know that kids grieve differently, and they grieve at every age. Reach out to Hospice of North Idaho to learn more about your journey through grief, and supporting kids in grief. Specific groups for men, women, and children help build community, strength and encouragement.
Info:
www.hospiceofnorthidaho.org
208-772-7994