"From strategically finding love, to helping researchers search for extraterrestrial life—there is quite literally an app for almost anything these days."
If you're curious about the most downloaded apps in 2019, take a gander at the graphic to the right.
The complete article covers the Champions of the App Economy and Which Apps Are Climbing the Ranks, and Countries Leading the App Economy, and The App Economy 2.0. They also report on some of the different categories of apps that are on the chart such as Streaming Services and Gaming.
Visual Capitalist is a website that publishes "Visual" representations of hundreds of subjects including Markets, Technology, Money, Energy, Healthcare, Mining, Green, and Politics.
Even if you're not particularly keen on a certain topic, this site is a great resource for displaying information in a different way – Good for research papers, perhaps?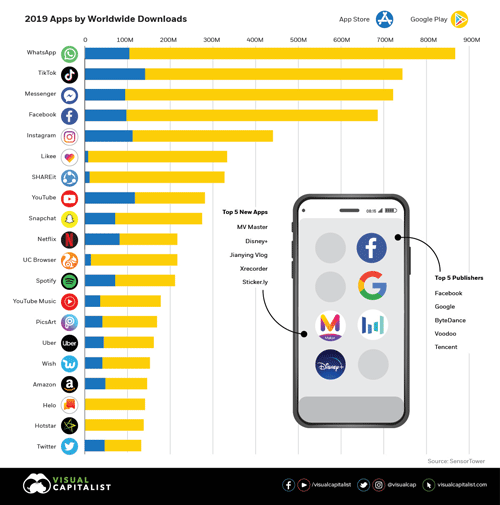 Source: https://www.visualcapitalist.com/ranked-most-downloaded-apps