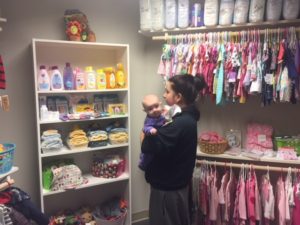 If this is a first pregnancy or even a second, there may be questions about what pregnancy is like. This is why Real Choices Clinic offers the Earn While You Learn program.
While there are many services available, no one needs to go through an unplanned pregnancy alone. We connect the pregnant woman with a caring advocate who will listen, offer help, and connect them with community resources. Ongoing sessions are available during the pregnancy and after the pregnancy.
This program provides support for women, men, couples, and families. Our main purpose is for each person to remember that they are not alone and there are many resources to help prepare for each stage of the pregnancy and beyond. Our volunteers are caring people devoted to helping every person walk through this time of change.
With every Earn While You Learn lesson completed, points are earned that can be used to purchase new baby items such as clothing, diapers, and a variety of infant care products.
Here are a few of the lessons and topics that we offer:
The First Trimester
Fetal Development in the Womb
Bonding with Your Unborn Baby
Your Changing Body
The Second Trimester
Understanding Your Baby's Cry
SIDS: Reducing the Risk
The Third Trimester
Labor and Delivery
Newborn Care
Parenting with Respect
Emergency First Aid
Emotions in Pregnancy
Real Choices Clinic of Coeur d'Alene is a non-profit, non-denominational, non-political organization that is committed to providing compassion, information and support to anyone facing the challenge of unintended pregnancy.
Info:
Real Choices Clinic
1800 Lincoln Way, #201 CdA
208-667-5433