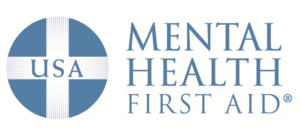 Mental Health First Aid USA is a training  –  like regular First Aid or CPR  –  designed to give people the skills to help someone who is developing a mental health problem or experiencing a mental health crisis.
Mental Health First Aid helps people know that mental illnesses and addictions are real, common and treatable and that it's OK to seek help.  Research demonstrates this program's effectiveness in improving knowledge of mental illnesses and substance use, removing fear and misunderstanding and enabling those trained to offer concrete assistance. Individuals trained in Mental Health First Aid can help:
• Raise awareness and encourage understanding of the ways in which one's cultural background can impact the discrimination associated with mental illness.
• Reach out to those who suffer in silence, reluctant to seek help.
• Let students know that support is available on campus and in the community.
• Provide information on self – help strategies and campus and community resources.
• Make mental health care and treatment accessible to those in need
Youth Mental Health First Aid is designed to teach parents, family members, teachers, school staff, peers, and health care personnel how to help an adolescent (age 12 – 18) who is experiencing a mental health or addiction challenge or is in crisis. Youth Mental Health First Aid is ideal for adults who regularly interact with young people. The course introduces common mental health challenges for youth, reviews typical adolescent development, and teaches a five – step action plan for how to help young people in both crisis and non – crisis situations. Topics covered include anxiety, depression, substance use, disorders in which psychosis may occur, disruptive behavior disorders (including AD/HD), and eating disorders.
Both Adult & Youth Mental Health First Aid are offered at North Idaho College's Workforce Training & Community Education Center in Post Falls.