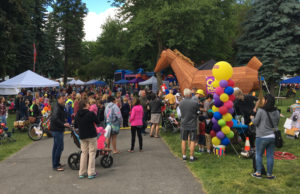 2017 Recap!
The first annual Family Day in the Park was a resounding success. Held June 9, 2017 from noon until dark, an estimated 4,000 plus people attended. The Coeur d'Alene School district was a key partner for the 2017 event and plans to be for future events as well. The district distributed event schedules and information to all students as well as operating one of the activity areas at the event.
Participants were overwhelmed with the support and attendance at the first event and are looking forward to participating in the future. What a great kick off to summer that gives all kiddos a fun, free, healthy place to celebrate the last day of school!
The concept of cooperation and collaboration to fulfill the North Idaho Family Groups mission of "healthy families and lifelong learning" was proven to be one of the keys to the overall event success. Activities like, The Garden District, Food Court, Tot Lot, Fancy Flea Market, and the Reading Corner grouped members and vendors with similar target audiences in the same area. Families were able to make the most of their visit depending on their area of interest.
Another key component to success was the ability to provide activities and attractions free to all attendees. Everything from books to otter pops and swag bags meant something for everyone.
Shelly Zollman, Executive Director of the North Idaho Family Group and Co-Organizer of the event said, "the community has wanted cooperation from nonprofits to avoid duplication in services and events for years. We are honored and excited to have created the platform for that to happen, and have it be such a great success for participants and attendees alike."
The 2018 event will be held at the Coeur d'Alene City Park on June 8th starting at noon and is on track to be larger and better attended. Live performing arts, more food vendors, and new interactive technology events are just a few of the additions to the 2018 Family Day in the Park and Fancy Flea Market.
The event, scheduled to be held annually on the last day of school in Coeur d'Alene, is a partnership program operated as a fundraiser by the North Idaho Family group, a 501(c)3 nonprofit, for the benefit of its membership and the community.
Plan to attend next June and watch for updates in the winter edition of this magazine (coming in January 2018 ) and regular updates on the nifamily.com website.