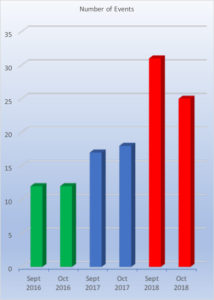 At last count, there were over 55 fundraising events scheduled in and around Coeur d'Alene during the months of September and October. This continues an upward trend for Fall Fundraising Events. (see the 2016-2018 graph on the right).
Between September 19 and October 19, 2018, there were over 20 fundraising events scheduled, benefiting children, orphans, ALS, veterans, the homeless, and more. All worthy causes, but the question is, how many is too many?
Pro Tip:
Nonprofits: Check our calendar at nifamily.com before you schedule your fundraising event! You can check last year's calendar to see if there are annual events scheduled that you may want to schedule around. North Idaho is a very giving community. Don't force your donors/supporters to choose between good causes by scheduling on the same day!