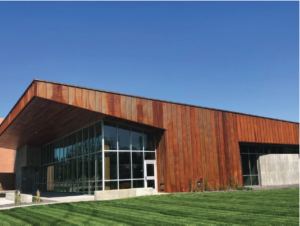 Five colleges have been striving toward a partnership to enhance educational offerings in North Idaho.
Now, that partnership is a physical reality.
In September, the doors opened for the $7.5 million Bob and Leona DeArmond College and University Center. Designed with collaboration as a key principle, the center houses representatives from North Idaho College, Lewis-Clark State College, and the University of Idaho, and serves as a point of contact for Boise State University and Idaho State University.
"It's really a manifestation of the North Idaho Higher Education Consortium, which is a partnership between the five higher education institutions in North Idaho. Together, we're bringing awareness to the community about the educational opportunities available in the five northern counties," said Sara Schmelzer, NIC Enrollment Coordinator.
The 29,000-square-foot center state-of-art center sits on the corner of Hubbard Avenue and River Avenue right as visitors reach NIC's main campus. It contains eight instructional classrooms, a student services center, and numerous student and faculty break-out rooms and informal learning spaces.
"It's the perfect place for the colleges to share resources with the community," Schmelzer said. "That ends up being a tremendous benefit to students who have a streamlined educational experience and the colleges in their efforts to be prudent stewards of public money. It's a win-win."
The center is named after Bob and Leona DeArmond, who made the largest private donation in NIC's 85-year history. It was built on the site of the former DeArmond Stud Mill.
"There's a rich history in the area. This building is designed to pay homage to that history, but has everything we need to meet the needs of tomorrow's students."