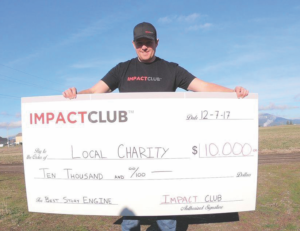 Cole Turnbull is no stranger to philanthropy. In May of 1989, he watched the dedication of the Turnbull Athletic Field, dedicated in honor of his father, Bart Turnbull, who put his heart and soul into helping kids in the community of Dalton Gardens.
When the opportunity to start Impact Club™ Coeur d'Alene came along, he took it on knowing that it was something his dad would of done if he was able. "My dad knew that making a difference and impacting the community was something that had to be done."
Bart Turnbull wasn't able to see his two sons utilize the field, but Cole is taking this opportunity to bring people together through the Impact Club™ to make a difference in the lives of other kids & families through Impact Club™ donations.
How it works
100 Leaders: We Meet
It's simple. Once per quarter, we meet. We connect. We have a drink. Network. And we solve problems, to impact lives in our community.
1 HOUR: We Vote
At each quarterly meeting, three nominated non-profit organizations are selected to present. Based on their presentation, each member then votes.
10K Donated: We Donate
The organization with the most votes, receives a $100 check from each member of the Impact Club™. 100 members x $100 = $10,000 donation/Impact.
There have been 2 meetings so far of the approximately 115 member Impact Club™ Coeur d'Alene. NEWBY-GINNINGS, Matt's Place Foundation, The Children's Village (Sept), Inland NW SIDS SUID Foundation, Anna Schindler Foundation, and Hospice of North Idaho (Dec) shared their stories at each meeting for a chance to earn the donation.
Nonprofit Opportunities
Nonprofits can be nominated multiple times, but can only receive a donation once per calendar year. For many Impact Club™ members, the 5-10 minute speech is their first exposure to the nominated charities, so it is critical to grab attention and convey mission & message in a small amount of time.
Videos for many of the stories are online.
Visit Impact Club Coeur d'Alene for more Info …
The Stories:
Anna Schindler Foundation
"In December 2017, the Anna Schindler Foundation (ASF) was nominated to tell our organization's story to the IMPACT CLUB Coeur d'Alene. Through the eyes of a mother, I told our family's journey of our five month old, Leland's battle with cancer (pictured on left). He was diagnosed with ATRT, a fast growing cancer that manifests in the brain and spinal cord. It is a journey that taps the extremes of human emotion in that you are fighting for your child's life. The support, both financially and emotionally from the Anna Schindler Foundation was key in supporting our family to the other side, whether it was our Leland's return to health or his passing. The ASF supported us with compassion, meal cards and financial assistance when we needed it most; they truly lightened the load for our family. The ASF continues to support all the families in the Inland Northwest diagnosed with childhood cancer. The IMPACT CLUB awarded this humble foundation with $11,200. We are so grateful for this kindness." ~Kathryn Steele
"Hospice of North Idaho was invited to tell one short story about our organization. As a mission-driven non-profit, we chose to tell the story that embodies our philosophy about "living fully." People assume that hospice is all about dying well, but it is also about living well. Several years ago we cared for a man who was full of life. He exuded the essence of "living fully" and inspired many people, including our staff. His greatest wish was to go fishing one last time before he died. The gleam in his eye for living fully was incontestable, so we arranged a plan to get him safely out on a boat in Hayden Lake. Fulfilling wishes like these are one of the more rewarding experiences for staff, our patients, and their families."
Inland Northwest SIDS Foundation
Liz Montgomery, Executive Director and Founder, told a heart-wrenching story about the day her son Mason died and how she was able to turn the tragedy of his death into educating others on safe infant sleep practices. Inland Northwest SIDS Foundation is a nationally recognized 501C3 dedicated to educating the public on safe infant sleep, bringing awareness to SIDS/SUID and providing emotional support to those who have experienced a pregnancy, infant or child loss.
"The Children's Village told a story of three siblings who blessed came to the household after some very traumatic circumstances. Though these little ones came to us malnourished, dehydrated and covered in dirt and feces—they found a loving home at Children's Village, where they were able to take activities on like Boy Scouts and not have to worry about where they were going to find food or shelter. Despite not winning the big prize, the story of these three kiddos touched one Impact Club member so much they handed Children's Village a check for $1,000. This helps our kiddos blossom, smile, learn and love, which is truly the most fulfilling and rewarding experience for us here at Children's Village."
Storytelling Tips for Nonprofits:
Nonprofit Storytelling: Seven Tips for Sharing Stories About Your Work (from Lori Jacobwidth at nonprofithub.org)
Stories should be about real people who need something, hopefully something that YOUR organization provides.
Allow the person in your story to have a real name, age, and to speak for themselves
Minds wander, get real quickly. In about 4-10 seconds your listeners tune out if you haven't grabbed them. Don't tell me you are going to tell me a story about someone, just tell it. Start with the person's name, age and a few descriptive words.
Keep your story short. Six words to two minutes is the length I recommend.
Allow your story to cause me to feel something. Anger, sadness, happiness, pride—it doesn't matter what the emotion is, I just have to feel something.
Your story should have a moment when people see themselves or someone in their own lives. Could be their aging parents, the daughter of the person who made their latte today or their own child.
The best stories are told by the person themselves. Clients telling their own stories are the most moving way to share how your organization makes a difference.
Read the full article here:
http://nonprofithub.org/nonprofit-marketing-plan/nonprofit-storytelling-seven-tips-for-sharing-stories-about-your-work/