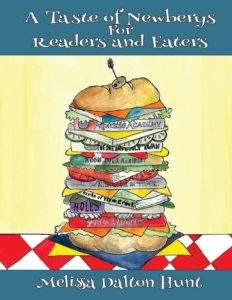 A TASTE OF NEWBERYS FOR READERS AND EATERS
I was born into a home of readers. There were books on shelves, in kids' rooms and even in the bathroom, sometimes known as the library, to those in the Dalton family.  I had older sisters to read to me and with every move in the Air Force we always found the base library.  My bike with saddle baskets came in handy when I wanted to check out a dozen books. The Scholastic book orders at school were the best and I am sure that many of them were Newbery winners.
At college my favorite class was Children's Literature. During my teaching years, I taught, read aloud, and collected Newberys. But what does a retired teacher do with 174 Newbery Medal and Honor books?  My neighbor Kathy helped me hatch the idea of combining my love of cooking and reading into a cookbook.  So, A Taste of Newberys was created, featuring the award-winning books and the recipes for the food within them.
Initially, my project began for my children and grandkids.  I wanted to share my love of my favorite books with them, because reading as a family and eating meals together brings communication time and bonding into homes.
My husband willingly taste-tested every recipe. My daughter, Jessica Hunt Parsons, illustrated the cover art and encouraged me to self-publish, then sell the books on Amazon.  I'm grateful for all that support and encouragement.
I hope you'll devour these tasty Newbery books aloud with your family, then add flavor to the stories by preparing the recipes inspired by each book. In the kitchen together, families can gain a taste for great literature.
A Taste of Newberys for Readers and Eaters gives a peek at some of my favorite Newbery books and recipes such as Sarah's beef stew from Sarah Plain and Tall and chocolate chip cookies from Frog and Toad Together. Every recipe comes with conversation prompts such as vocabulary words, discussion questions, and favorite quotes from the story.
A portion of the proceeds from A Taste of Newberys is donated to the Kootenai Health Foundation, Women's Wellness Program in CDA, ID to help provide 3D mammograms for those in need.
A Taste of Newberys for Readers and Eaters can be purchased on Amazon.com
Taste the world through reading, to open your minds to thoughts beyond your own.